Select Drops Lemon Ginger (1,000mg)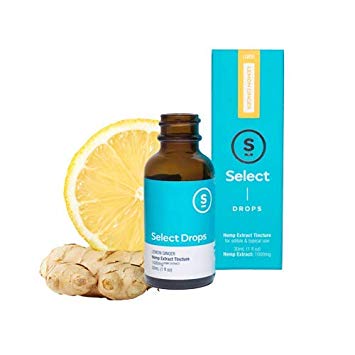 Select Drops Lemon Ginger (1,000mg)
100% Pure CBD Oil with fractionated coconut oil. Our tincture comes with an easy drop applicator for the perfect dose. The product can be used orally as well as topically on the skin. 30ml bottle contains 1000mg of CBD.
Lemon Ginger: CBD Oil blended with Lemon Ginger essential oil and fractionated coconut oil that reinvigorates you with natural citrus extracts to help you reconnect and regain energy.
Ingredients: CBD Oil, Fractionated Coconut Oil, Lemon Essential Oil, Ginger Herbs, and Turmeric Herbs, Stevia. This product contains no THC.
sold out
FOOD AND DRUG ADMINISTRATION (FDA) DISCLOSURE:These statements have not been evaluated by the FDA and are not intended to diagnose, treat, or cure any disease. Always check with your physician before starting a new dietary supplement program
12423 NE Whitaker Way Portland, OR 97230 503-254-1794 Job Number: Report Date: ORELAP#: 06/05/2018 OR100028 Received: 06/01/18 13:11 18-003681 Report#: 041535-00 Purchase Order: Product identity: Customer: CBD Tincture 5/30/2018 Primary Sample Date: 06/01/18 Laboratory ID: 18-003681-0001 Client/Metrc ID: CBD Tincture 5/31/2018 Cura Can 1133 SE 82nd Ave. Portland Oregon 97214 United States Grower: 030-1002253EDE0 Relinquished by: Brian Ramos Temp: 21.9 °C Weight Received: 16 g Sample Results Potency Method J AOAC 2015 V98-6 Units % Batch 1802805 Analyze 06/05/18 02:29 PM Analyte As Received Dry weight LOQ Notes CBC† < LOQ 0.100 CBC-A† < LOQ 0.100 CBC-Total† < LOQ 0.188 CBD 3.45 0.100 CBD-A < LOQ 0.100 CBD-Total 3.45 0.188 CBDV† < LOQ 0.100 CBDV-A† < LOQ 0.100 CBDV-Total† < LOQ 0.187 CBG† < LOQ 0.100 CBG-A† < LOQ 0.100 CBG-Total† < LOQ 0.188 CBL† < LOQ 0.100 CBN < LOQ 0.100 D8THC† < LOQ 0.100 THC < LOQ 0.100 THC-A < LOQ 0.100 THC-Total < LOQ 0.187 THCV† < LOQ 0.100 THCV-A† < LOQ 0.100 THCV-Total† < LOQ 0.187 CBD Solvents Method EPA5021A Units µg/g Batch 1802852 Analyze 06/04/18 11:42 AM Page 1 of 20 Test results relate only to the parameters tested and to the samples as received by the laboratory. Test results meet all requirements of NELAP and the Pixis quality assurance plan unless otherwise noted. This report shall not be reproduced, except in full, without the written consent of this laboratory. Samples will be kept a maximum of 15 days from the report date unless prior arrangements have been made. Testing in accordance with: OAR 333-007-0410 OAR 333-007-0430 12423 NE Whitaker Way Portland, OR 97230 503-254-1794 Job Number: Report Date: ORELAP#: 06/05/2018 OR100028 Received: 06/01/18 13:11 18-003681 Report#: 041535-00 Purchase Order: Solvents Method EPA5021A Units µg/g Batch 1802852 Analyze 06/04/18 11:42 AM Analyte Result Limits LOQ Status Notes Analyte Result Limits LOQ Status Notes 1,4-Dioxane < LOQ 380 pass 2-Butanol < LOQ 5000 pass 2-Ethoxyethanol < LOQ 160 pass 2-Methylbutane < LOQ 2-Methylpentane < LOQ 2-Propanol (IPA) < LOQ 5000 pass 2,2-Dimethylbutane < LOQ 2,2-Dimethylpropane < LOQ 2,3-Dimethylbutane < LOQ 3-Methylpentane < LOQ Acetone < LOQ 5000 pass Acetonitrile < LOQ 410 pass Benzene < LOQ 2.00 pass Butanes (sum) < LOQ 5000 pass Cyclohexane < LOQ 3880 pass Ethyl acetate < LOQ 5000 pass Ethyl benzene < LOQ Ethyl ether < LOQ 5000 pass Ethylene glycol < LOQ 620 pass Ethylene oxide < LOQ 50.0 pass Hexanes (sum) < LOQ 290 pass Isopropyl acetate < LOQ 5000 pass Isopropylbenzene < LOQ 70.0 pass m,p-Xylene < LOQ Methanol < LOQ 3000 pass Methylene chloride < LOQ 600 pass Methylpropane < LOQ n-Butane < LOQ n-Heptane < LOQ 5000 pass n-Hexane < LOQ n-Pentane < LOQ o-Xylene < LOQ Pentanes (sum) < LOQ 5000 pass Propane < LOQ 5000 pass Tetrahydrofuran < LOQ 720 pass Toluene < LOQ 890 pass Total Xylenes < LOQ Total Xylenes and Ethyl < LOQ 2170 pass Pesticides Method AOAC 2007.01 & EN 15662 (mod) Units mg/kg Batch 1802871 Analyze 06/05/18 08:26 AM Analyte Result Limits LOQ Status Notes Analyte Result Limits LOQ Status Notes Abamectin < LOQ 0.50 0.25 pass Acephate < LOQ 0.40 0.25 pass Acequinocyl < LOQ 2.0 1.0 pass Acetamiprid < LOQ 0.20 0.10 pass Aldicarb < LOQ 0.40 0.20 pass Azoxystrobin < LOQ 0.20 0.10 pass Bifenazate < LOQ 0.20 0.10 pass Bifenthrin < LOQ 0.20 0.10 pass Boscalid < LOQ 0.40 0.10 pass Carbaryl < LOQ 0.20 0.10 pass Carbofuran < LOQ 0.20 0.10 pass Chlorantraniliprol < LOQ 0.20 0.10 pass Chlorfenapyr < LOQ 1.0 0.50 pass Chlorpyrifos < LOQ 0.20 0.10 pass Clofentezine < LOQ 0.20 0.10 pass Cyfluthrin (incl. < LOQ 1.0 0.50 pass Cypermethrin < LOQ 1.0 0.50 pass Daminozide < LOQ 1.0 0.50 pass Diazinon < LOQ 0.20 0.10 pass Dichlorvos < LOQ 1.0 0.50 pass Dimethoate < LOQ 0.20 0.10 pass Ethoprophos < LOQ 0.20 0.10 pass Etofenprox < LOQ 0.40 0.20 pass Etoxazole < LOQ 0.20 0.10 pass Fenoxycarb < LOQ 0.20 0.10 pass Fenpyroximate < LOQ 0.40 0.20 pass Fipronil < LOQ 0.40 0.20 pass Flonicamid < LOQ 1.0 0.40 pass Fludioxonil < LOQ 0.40 0.20 pass Hexythiazox < LOQ 1.0 0.40 pass Imazalil < LOQ 0.20 0.10 pass Imidacloprid < LOQ 0.40 0.20 pass Page 2 of 20 Test results relate only to the parameters tested and to the samples as received by the laboratory. Test results meet all requirements of NELAP and the Pixis quality assurance plan unless otherwise noted. This report shall not be reproduced, except in full, without the written consent of this laboratory. Samples will be kept a maximum of 15 days from the report date unless prior arrangements have been made. Testing in accordance with: OAR 333-007-0400 OAR 333-007-0410 OAR 333-007-0430 100 200 30.0 200 30.0 200 60.0 2800 60.0 30.0 200 100 2.00 200 200 200 200 200 30.0 200 30.0 200 200 200 2200 2200 200 30.0 200 200 1700 100 100 210 3200 400 600 4400 12423 NE Whitaker Way Portland, OR 97230 503-254-1794 Job Number: Report Date: ORELAP#: 06/05/2018 OR100028 Received: 06/01/18 13:11 18-003681 Report#: 041535-00 Purchase Order: Pesticides Method AOAC 2007.01 & EN 15662 (mod) Units mg/kg Batch 1802871 Analyze 06/05/18 08:26 AM Analyte Result Limits LOQ Status Notes Analyte Result Limits LOQ Status Notes Kresoxim-methyl < LOQ 0.40 0.20 pass Malathion < LOQ 0.20 0.10 pass Metalaxyl < LOQ 0.20 0.10 pass Methiocarb < LOQ 0.20 0.10 pass Methomyl < LOQ 0.40 0.20 pass MGK-264 < LOQ 0.20 0.10 pass Myclobutanil < LOQ 0.20 0.10 pass Naled < LOQ 0.50 0.25 pass Oxamyl < LOQ 1.0 0.50 pass Paclobutrazole < LOQ 0.40 0.20 pass Parathion-Methyl < LOQ 0.20 0.20 pass Permethrin < LOQ 0.20 0.10 pass Phosmet < LOQ 0.20 0.10 pass Piperonyl butoxide < LOQ 2.0 1.0 pass Prallethrin < LOQ 0.20 0.10 pass Propiconazole < LOQ 0.40 0.20 pass Propoxur < LOQ 0.20 0.10 pass Pyrethrins < LOQ 1.0 0.50 pass Pyridaben < LOQ 0.20 0.10 pass Spinosad < LOQ 0.20 0.10 pass Spiromesifen < LOQ 0.20 0.10 pass Spirotetramat < LOQ 0.20 0.10 pass Spiroxamine < LOQ 0.40 0.20 pass Tebuconazole < LOQ 0.40 0.20 pass Thiacloprid < LOQ 0.20 0.10 pass Thiamethoxam < LOQ 0.20 0.10 pass Trifloxystrobin < LOQ 0.20 0.10 pass Page 3 of 20 Test results relate only to the parameters tested and to the samples as received by the laboratory. Test results meet all requirements of NELAP and the Pixis quality assurance plan unless otherwise noted. This report shall not be reproduced, except in full, without the written consent of this laboratory. Samples will be kept a maximum of 15 days from the report date unless prior arrangements have been made. Testing in accordance with: OAR 333-007-0400 OAR 333-007-0410 OAR 333-007-0430 12423 NE Whitaker Way Portland, OR 97230 503-254-1794 Job Number: Report Date: ORELAP#: 06/05/2018 OR100028 Received: 06/01/18 13:11 18-003681 Report#: 041535-00 Purchase Order: Product identity: Customer: CBD Tincture 5/30/2018 Duplicate Sample Date: 06/01/18 Laboratory ID: 18-003681-0002 Client/Metrc ID: CBD Tincture 5/31/2018 Cura Can 1133 SE 82nd Ave. Portland Oregon 97214 United States Grower: 030-1002253EDE0 Relinquished by: Brian Ramos Temp: 21.9 °C Weight Received: 6 g Sample Results Potency Method J AOAC 2015 V98-6 Units % Batch 1802805 Analyze 06/05/18 02:29 PM Analyte As Received Dry weight LOQ Notes CBC† < LOQ 0.100 CBC-A† < LOQ 0.100 CBC-Total† < LOQ 0.188 CBD 3.39 0.100 CBD-A < LOQ 0.100 CBD-Total 3.39 0.188 CBDV† < LOQ 0.100 CBDV-A† < LOQ 0.100 CBDV-Total† < LOQ 0.187 CBG† < LOQ 0.100 CBG-A† < LOQ 0.100 CBG-Total† < LOQ 0.188 CBL† < LOQ 0.100 CBN < LOQ 0.100 D8THC† < LOQ 0.100 THC < LOQ 0.100 THC-A < LOQ 0.100 THC-Total < LOQ 0.187 THCV† < LOQ 0.100 THCV-A† < LOQ 0.100 THCV-Total† < LOQ 0.187 CBD Solvents Method EPA5021A Units µg/g Batch 1802852 Analyze 06/04/18 11:42 AM Page 4 of 20 Test results relate only to the parameters tested and to the samples as received by the laboratory. Test results meet all requirements of NELAP and the Pixis quality assurance plan unless otherwise noted. This report shall not be reproduced, except in full, without the written consent of this laboratory. Samples will be kept a maximum of 15 days from the report date unless prior arrangements have been made. Testing in accordance with: OAR 333-007-0410 OAR 333-007-0430 12423 NE Whitaker Way Portland, OR 97230 503-254-1794 Job Number: Report Date: ORELAP#: 06/05/2018 OR100028 Received: 06/01/18 13:11 18-003681 Report#: 041535-00 Purchase Order: Solvents Method EPA5021A Units µg/g Batch 1802852 Analyze 06/04/18 11:42 AM Analyte Result Limits LOQ Status Notes Analyte Result Limits LOQ Status Notes 1,4-Dioxane < LOQ 380 pass 2-Butanol < LOQ 5000 pass 2-Ethoxyethanol < LOQ 160 pass 2-Methylbutane < LOQ 2-Methylpentane < LOQ 2-Propanol (IPA) < LOQ 5000 pass 2,2-Dimethylbutane < LOQ 2,2-Dimethylpropane < LOQ 2,3-Dimethylbutane < LOQ 3-Methylpentane < LOQ Acetone < LOQ 5000 pass Acetonitrile < LOQ 410 pass Benzene < LOQ 2.00 pass Butanes (sum) < LOQ 5000 pass Cyclohexane < LOQ 3880 pass Ethyl acetate < LOQ 5000 pass Ethyl benzene < LOQ Ethyl ether < LOQ 5000 pass Ethylene glycol < LOQ 620 pass Ethylene oxide < LOQ 50.0 pass Hexanes (sum) < LOQ 290 pass Isopropyl acetate < LOQ 5000 pass Isopropylbenzene < LOQ 70.0 pass m,p-Xylene < LOQ Methanol < LOQ 3000 pass Methylene chloride < LOQ 600 pass Methylpropane < LOQ n-Butane < LOQ n-Heptane < LOQ 5000 pass n-Hexane < LOQ n-Pentane < LOQ o-Xylene < LOQ Pentanes (sum) < LOQ 5000 pass Propane < LOQ 5000 pass Tetrahydrofuran < LOQ 720 pass Toluene < LOQ 890 pass Total Xylenes < LOQ Total Xylenes and Ethyl < LOQ 2170 pass Pesticides Method AOAC 2007.01 & EN 15662 (mod) Units mg/kg Batch 1802871 Analyze 06/05/18 08:26 AM Analyte Result Limits LOQ Status Notes Analyte Result Limits LOQ Status Notes Abamectin < LOQ 0.50 0.25 pass Acephate < LOQ 0.40 0.25 pass Acequinocyl < LOQ 2.0 1.0 pass Acetamiprid < LOQ 0.20 0.10 pass Aldicarb < LOQ 0.40 0.20 pass Azoxystrobin < LOQ 0.20 0.10 pass Bifenazate < LOQ 0.20 0.10 pass Bifenthrin < LOQ 0.20 0.10 pass Boscalid < LOQ 0.40 0.10 pass Carbaryl < LOQ 0.20 0.10 pass Carbofuran < LOQ 0.20 0.10 pass Chlorantraniliprol < LOQ 0.20 0.10 pass Chlorfenapyr < LOQ 1.0 0.50 pass Chlorpyrifos < LOQ 0.20 0.10 pass Clofentezine < LOQ 0.20 0.10 pass Cyfluthrin (incl. < LOQ 1.0 0.50 pass Cypermethrin < LOQ 1.0 0.50 pass Daminozide < LOQ 1.0 0.50 pass Diazinon < LOQ 0.20 0.10 pass Dichlorvos < LOQ 1.0 0.50 pass Dimethoate < LOQ 0.20 0.10 pass Ethoprophos < LOQ 0.20 0.10 pass Etofenprox < LOQ 0.40 0.20 pass Etoxazole < LOQ 0.20 0.10 pass Fenoxycarb < LOQ 0.20 0.10 pass Fenpyroximate < LOQ 0.40 0.20 pass Fipronil < LOQ 0.40 0.20 pass Flonicamid < LOQ 1.0 0.40 pass Fludioxonil < LOQ 0.40 0.20 pass Hexythiazox < LOQ 1.0 0.40 pass Imazalil < LOQ 0.20 0.10 pass Imidacloprid < LOQ 0.40 0.20 pass Page 5 of 20 Test results relate only to the parameters tested and to the samples as received by the laboratory. Test results meet all requirements of NELAP and the Pixis quality assurance plan unless otherwise noted. This report shall not be reproduced, except in full, without the written consent of this laboratory. Samples will be kept a maximum of 15 days from the report date unless prior arrangements have been made. Testing in accordance with: OAR 333-007-0400 OAR 333-007-0410 OAR 333-007-0430 100 200 30.0 200 30.0 200 60.0 2800 60.0 30.0 200 100 2.00 200 200 200 200 200 30.0 200 30.0 200 200 200 2200 2200 200 30.0 200 200 1700 100 100 210 3200 400 600 4400 12423 NE Whitaker Way Portland, OR 97230 503-254-1794 Job Number: Report Date: ORELAP#: 06/05/2018 OR100028 Received: 06/01/18 13:11 18-003681 Report#: 041535-00 Purchase Order: Pesticides Method AOAC 2007.01 & EN 15662 (mod) Units mg/kg Batch 1802871 Analyze 06/05/18 08:26 AM Analyte Result Limits LOQ Status Notes Analyte Result Limits LOQ Status Notes Kresoxim-methyl < LOQ 0.40 0.20 pass Malathion < LOQ 0.20 0.10 pass Metalaxyl < LOQ 0.20 0.10 pass Methiocarb < LOQ 0.20 0.10 pass Methomyl < LOQ 0.40 0.20 pass MGK-264 < LOQ 0.20 0.10 pass Myclobutanil < LOQ 0.20 0.10 pass Naled < LOQ 0.50 0.25 pass Oxamyl < LOQ 1.0 0.50 pass Paclobutrazole < LOQ 0.40 0.20 pass Parathion-Methyl < LOQ 0.20 0.20 pass Permethrin < LOQ 0.20 0.10 pass Phosmet < LOQ 0.20 0.10 pass Piperonyl butoxide < LOQ 2.0 1.0 pass Prallethrin < LOQ 0.20 0.10 pass Propiconazole < LOQ 0.40 0.20 pass Propoxur < LOQ 0.20 0.10 pass Pyrethrins < LOQ 1.0 0.50 pass Pyridaben < LOQ 0.20 0.10 pass Spinosad < LOQ 0.20 0.10 pass Spiromesifen < LOQ 0.20 0.10 pass Spirotetramat < LOQ 0.20 0.10 pass Spiroxamine < LOQ 0.40 0.20 pass Tebuconazole < LOQ 0.40 0.20 pass Thiacloprid < LOQ 0.20 0.10 pass Thiamethoxam < LOQ 0.20 0.10 pass Trifloxystrobin < LOQ 0.20 0.10 pass Page 6 of 20 Test results relate only to the parameters tested and to the samples as received by the laboratory. Test results meet all requirements of NELAP and the Pixis quality assurance plan unless otherwise noted. This report shall not be reproduced, except in full, without the written consent of this laboratory. Samples will be kept a maximum of 15 days from the report date unless prior arrangements have been made. Testing in accordance with: OAR 333-007-0400 OAR 333-007-0410 OAR 333-007-0430 12423 NE Whitaker Way Portland, OR 97230 503-254-1794 Job Number: Report Date: ORELAP#: 06/05/2018 OR100028 Received: 06/01/18 13:11 18-003681 Report#: 041535-00 Purchase Order: Abbreviations Limits: Action Levels per OAR-333-007-0400, OAR-333-007-0210, OAR-333-007-0220 Limit(s) of Quantitation (LOQ): The minimum levels, concentrations, or quantities of a target variable (e.g., target analyte) that can be reported with a specified degree of confidence. Glossary of Qualifiers † = Analyte not NELAP accredited. Units of Measure g = Gram µg/g = Microgram per gram mg/kg = Milligram per kilogram % = Percentage of sample % wt = µg/g divided by 10,000 Derrick Tanner General Manager Approved Signatory Page 7 of 20 Test results relate only to the parameters tested and to the samples as received by the laboratory. Test results meet all requirements of NELAP and the Pixis quality assurance plan unless otherwise noted. This report shall not be reproduced, except in full, without the written consent of this laboratory. Samples will be kept a maximum of 15 days from the report date unless prior arrangements have been made. Testing in accordance with: OAR 333-007-0400 OAR 333-007-0410 OAR 333-007-0430 12423 NE Whitaker Way Portland, OR 97230 503-254-1794 Job Number: Report Date: ORELAP#: 06/05/2018 OR100028 Received: 06/01/18 13:11 18-003681 Report#: 041535-00 Purchase Order: Page 8 of 20 Test results relate only to the parameters tested and to the samples as received by the laboratory. Test results meet all requirements of NELAP and the Pixis quality assurance plan unless otherwise noted. This report shall not be reproduced, except in full, without the written consent of this laboratory. Samples will be kept a maximum of 15 days from the report date unless prior arrangements have been made. Testing in accordance with: OAR 333-007-0400 OAR 333-007-0410 OAR 333-007-0430 12423 NE Whitaker Way Portland, OR 97230 503-254-1794 Job Number: Report Date: ORELAP#: 06/05/2018 OR100028 Received: 06/01/18 13:11 18-003681 Report#: 041535-00 Purchase Order: Page 9 of 20 Test results relate only to the parameters tested and to the samples as received by the laboratory. Test results meet all requirements of NELAP and the Pixis quality assurance plan unless otherwise noted. This report shall not be reproduced, except in full, without the written consent of this laboratory. Samples will be kept a maximum of 15 days from the report date unless prior arrangements have been made. Testing in accordance with: OAR 333-007-0400 OAR 333-007-0410 OAR 333-007-0430 12423 NE Whitaker Way Portland, OR 97230 503-254-1794 Job Number: Report Date: ORELAP#: 06/05/2018 OR100028 Received: 06/01/18 13:11 18-003681 Report#: 041535-00 Purchase Order: Page 10 of 20 Test results relate only to the parameters tested and to the samples as received by the laboratory. Test results meet all requirements of NELAP and the Pixis quality assurance plan unless otherwise noted. This report shall not be reproduced, except in full, without the written consent of this laboratory. Samples will be kept a maximum of 15 days from the report date unless prior arrangements have been made. Testing in accordance with: OAR 333-007-0400 OAR 333-007-0410 OAR 333-007-0430 12423 NE Whitaker Way Portland, OR 97230 503-254-1794 Job Number: Report Date: ORELAP#: 06/05/2018 OR100028 Received: 06/01/18 13:11 18-003681 Report#: 041535-00 Purchase Order: Page 11 of 20 Test results relate only to the parameters tested and to the samples as received by the laboratory. Test results meet all requirements of NELAP and the Pixis quality assurance plan unless otherwise noted. This report shall not be reproduced, except in full, without the written consent of this laboratory. Samples will be kept a maximum of 15 days from the report date unless prior arrangements have been made. Testing in accordance with: OAR 333-007-0400 OAR 333-007-0410 OAR 333-007-0430 12423 NE Whitaker Way Portland, OR 97230 503-254-1794 Job Number: Report Date: ORELAP#: 06/05/2018 OR100028 Received: 06/01/18 13:11 18-003681 Report#: 041535-00 Purchase Order: Page 12 of 20 Test results relate only to the parameters tested and to the samples as received by the laboratory. Test results meet all requirements of NELAP and the Pixis quality assurance plan unless otherwise noted. This report shall not be reproduced, except in full, without the written consent of this laboratory. Samples will be kept a maximum of 15 days from the report date unless prior arrangements have been made. Testing in accordance with: OAR 333-007-0400 OAR 333-007-0410 OAR 333-007-0430 12423 NE Whitaker Way Portland, OR 97230 503-254-1794 Job Number: Report Date: ORELAP#: 06/05/2018 OR100028 Received: 06/01/18 13:11 18-003681 Report#: 041535-00 Purchase Order: Page 13 of 20 Test results relate only to the parameters tested and to the samples as received by the laboratory. Test results meet all requirements of NELAP and the Pixis quality assurance plan unless otherwise noted. This report shall not be reproduced, except in full, without the written consent of this laboratory. Samples will be kept a maximum of 15 days from the report date unless prior arrangements have been made. Testing in accordance with: OAR 333-007-0400 OAR 333-007-0410 OAR 333-007-0430 12423 NE Whitaker Way Portland, OR 97230 503-254-1794 Job Number: Report Date: ORELAP#: 06/05/2018 OR100028 Received: 06/01/18 13:11 18-003681 Report#: 041535-00 Purchase Order: Page 14 of 20 Test results relate only to the parameters tested and to the samples as received by the laboratory. Test results meet all requirements of NELAP and the Pixis quality assurance plan unless otherwise noted. This report shall not be reproduced, except in full, without the written consent of this laboratory. Samples will be kept a maximum of 15 days from the report date unless prior arrangements have been made. Testing in accordance with: OAR 333-007-0400 OAR 333-007-0410 OAR 333-007-0430 12423 NE Whitaker Way Portland, OR 97230 503-254-1794 Job Number: Report Date: ORELAP#: 06/05/2018 OR100028 Received: 06/01/18 13:11 18-003681 Report#: 041535-00 Purchase Order: Page 15 of 20 Test results relate only to the parameters tested and to the samples as received by the laboratory. Test results meet all requirements of NELAP and the Pixis quality assurance plan unless otherwise noted. This report shall not be reproduced, except in full, without the written consent of this laboratory. Samples will be kept a maximum of 15 days from the report date unless prior arrangements have been made. Testing in accordance with: OAR 333-007-0400 OAR 333-007-0410 OAR 333-007-0430 12423 NE Whitaker Way Portland, OR 97230 503-254-1794 Job Number: Report Date: ORELAP#: 06/05/2018 OR100028 Received: 06/01/18 13:11 18-003681 Report#: 041535-00 Purchase Order: Page 16 of 20 Test results relate only to the parameters tested and to the samples as received by the laboratory. Test results meet all requirements of NELAP and the Pixis quality assurance plan unless otherwise noted. This report shall not be reproduced, except in full, without the written consent of this laboratory. Samples will be kept a maximum of 15 days from the report date unless prior arrangements have been made. Testing in accordance with: OAR 333-007-0400 OAR 333-007-0410 OAR 333-007-0430 12423 NE Whitaker Way Portland, OR 97230 503-254-1794 Job Number: Report Date: ORELAP#: 06/05/2018 OR100028 Received: 06/01/18 13:11 18-003681 Report#: 041535-00 Purchase Order: Page 17 of 20 Test results relate only to the parameters tested and to the samples as received by the laboratory. Test results meet all requirements of NELAP and the Pixis quality assurance plan unless otherwise noted. This report shall not be reproduced, except in full, without the written consent of this laboratory. Samples will be kept a maximum of 15 days from the report date unless prior arrangements have been made. Testing in accordance with: OAR 333-007-0400 OAR 333-007-0410 OAR 333-007-0430 12423 NE Whitaker Way Portland, OR 97230 503-254-1794 Job Number: Report Date: ORELAP#: 06/05/2018 OR100028 Received: 06/01/18 13:11 18-003681 Report#: 041535-00 Purchase Order: Page 18 of 20 Test results relate only to the parameters tested and to the samples as received by the laboratory. Test results meet all requirements of NELAP and the Pixis quality assurance plan unless otherwise noted. This report shall not be reproduced, except in full, without the written consent of this laboratory. Samples will be kept a maximum of 15 days from the report date unless prior arrangements have been made. Testing in accordance with: OAR 333-007-0400 OAR 333-007-0410 OAR 333-007-0430 12423 NE Whitaker Way Portland, OR 97230 503-254-1794 Job Number: Report Date: ORELAP#: 06/05/2018 OR100028 Received: 06/01/18 13:11 18-003681 Report#: 041535-00 Purchase Order: Page 19 of 20 Test results relate only to the parameters tested and to the samples as received by the laboratory. Test results meet all requirements of NELAP and the Pixis quality assurance plan unless otherwise noted. This report shall not be reproduced, except in full, without the written consent of this laboratory. Samples will be kept a maximum of 15 days from the report date unless prior arrangements have been made. Testing in accordance with: OAR 333-007-0400 OAR 333-007-0410 OAR 333-007-0430 12423 NE Whitaker Way Portland, OR 97230 503-254-1794 Job Number: Report Date: ORELAP#: 06/05/2018 OR100028 Received: 06/01/18 13:11 18-003681 Report#: 041535-00 Purchase Order: Code Explanation Q Matrix interferences affecting spike or surrogate recoveries. Q1 Quality control result biased high. Only non-detect samples reported. Q2 Quality control outside QC limits. Data considered estimate. Q3 Sample concentration greater than four times the amount spiked. Q4 Non-homogenous sample matrix, affecting RPD result and/or % recoveries. Q5 Spike results above calibration curve. Q6 Quality control outside QC limits. Data acceptable based on remaining QC. R Relative percent difference (RPD) outside control limit. R1 RPD non-calculable, as sample or duplicate results are less than five times the LOQ. R2 Sample replicates RPD non-calculable, as only one replicate is within the analytical range. LOQ1 Quantitation level raised due to low sample volume and/or dilution. LOQ2 Quantitaion level raised due to matrix interference. B Analyte detected in method blank, but not in associated samples. B1 The sample concentration is greater than 5 times the blank concentration. B2 The sample concentration is less than 5 times the blank concentration. Explanation of QC Flag Comments: Page 20 of 20 Test results relate only to the parameters tested and to the samples as received by the laboratory. Test results meet all requirements of NELAP and the Pixis quality assurance plan unless otherwise noted. This report shall not be reproduced, except in full, without the written consent of this laboratory. Samples will be kept a maximum of 15 days from the report date unless prior arrangements have been made. Testing in accordance with: OAR 333-007-0400 OAR 333-007-0410 OAR 333-007-0430